Sneaker Pimp's 'Spin Spin Sugar' was a standout song of my teen years. So when I read that Chris Corner's solo act was coming to town, I took a listen, and wondered why I hadn't already heard it. And since he described it as something that should be seen and not heard, I bought a ticket immediately.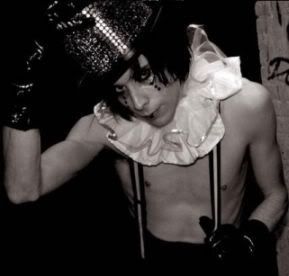 IAMX (I am X) is best described as a cooler version of Of Montreal– theatrical in appearance but dark and sinister in tone. More Puppet Master and less Chicago. Chris Corner, in his top hat and half white/half black top coat looked like Tim Roth in Four Rooms meets Annie Lennox in Sweet Dreams meets Sir Didymus in Labyrinth. I know, totally random. The bassist/synths/keyboardist stole my 4th grade jazz recital costume and paired it with thigh highs and totally rocked out. Mr. Guitarlicious looked eerily similar to Blayne, the most recently kicked off Project Runway contestant. The drummer was rockin' it, too, but I couldn't see him well enough to make a random comparison.
I have never heard girls scream like that at a GAMH show. It's always the little androgynous ones…weird. Corner came out with a glass of wine which he pawned off to some screaming fans as he leapt into the first track. He was immediately not happy with the lighting- a projector was casting some bright lights directly onto his face. I wasn't happy with the lighting, either- it was so dark at times I had to leave some things to my imagination.
The crowd was way into it. Every member of that band works full throttle, and Corner makes every audience member feel acknowledged. He's a massive eye contacter- looking at the row of folks up on the mezzanine, in the front, in the back- shouting and pointing- "I see you!". He gave the front row what can only be described as head dances as boys and girls grabbed at his narrow little legs. A few more songs in and he screamed mid song while flashing a dirty look to stage left that something was "fucking annoying". Lights or vocals, I'm not sure…but he wasn't happy.
I was concerned that his voice wouldn't sound as nice live, but it is still amazing…haunting, even. Particularly on 'This Will Make You Love Again'…just beautiful. He barely missed a beat, even when he made 2 attempts at crowd surfing.
I feel like I was just getting into it when they said goodnight and left the stage. Were we being punished for bad lighting? They came back out for a short encore- no costume changes or anything- but went out in style with 'After Every Party I Die', where he could have almost died as he tried to crowd surf on some girls' heads right in front of me. He's little but not that little.
I want more. I've been spoiled by all these 2+ hour sets lately. He certainly has more material, but apparently his motto is short and sweet. Grrr.
setlist (probably needs help):
kiss and swallow
the alternative
bring me back a dog
sailor
the negative sex
this will make you love again
your joy is my low
spit it out
nightlife
song of imaginary beings
encore:
president
after every party i die
OVERALL: 8.75/10
IAMX performance: 9.25/10
The Start performance: 6/10
venue (Great American Music Hall): 9/10
crowd/scene: 7.5/10 (nice fashion, kids…but tall guys in the front still suck!)
value ($16/ticket): 9/10
memorable: 8/10
tour diary from last year: