It's cock rock night at The Fillmore. That's about the only way I can describe the two bands that shouldn't really be sharing the bill. Kinda like Slayer and Manson– I find it weird.
Walking into The Fillmore was like entering a motorcycle rally where the gang is called Black Label Society. The fans are serious offenders of wearing the band's merch to the show, particularly the denim BLS vest. And at $165 a pop, these are some seriously invested fans.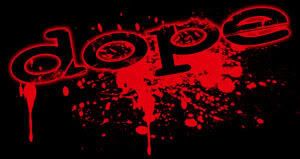 Dope brings back memories of HRC's turn of the century musical adventures. Nu-Metal was king, and Dope brought in some goth elements to the mix, which I can never turn down. Total guilty pleasure stuff.
The band came out to the theme song from The Sopranos. I couldn't wait to see how the crowd would react to this. They actually did pretty well. Lead singer Edsel Dope did a good job of constantly thanking BLS for taking them on this tour, so they were fairly respectful. The Dope guys are animated performers, flinging their tattooed, pierced and long haired bodies around the stage. Edsel has that slightly androgynous thing going on, which is kinda funny paired with his semi-Southern accent. He did quite a bit of talking, including the hated by HRC "raise your hands" business, and fiercely promoting their new record which comes out on Tuesday. He said that if BLS was the drinking man's band, then Dope is the smoking man's band. I beg to differ. That would be stoner rock- how about snorting man's band? Shooting man's band? We know the history there.
Their cover of Billy Idol's "Rebel Yell" was well received. This was followed by a cover of "Fuck Tha Police". Then "Die MF Die" and my personal favorite, "Bitch". It's unfortunate that they couldn't do "Addiction" with Zakk Wylde on guitar as it was recorded- instead, Edsel put on the denim BLS vest.
During the set up for BLS, it became apparent that everyone in the crowd was wasted. The roaming cocktail waitress became my new worst enemy. She discovered that the weird metal family standing around me were drinking at an astounding rate, and came around every 10 minutes to refuel them. It was extremely annoying during the set, her tray was full of spilled alcohol that would splash on me, and she got this group of people so drunk that I had to prop several of them up towards the end of the set.
BLS is one of the most heavily branded bands I've ever seen. I think they might be the NASCAR of metal. A curtain with their logo was put up in front of the stage while it was set up. Flags with their logo covered equipment everywhere on the stage. Patsy Cline's version of "Crazy" played before they took the stage. The curtain was dropped, and there was the band, Zakk in his ZZ Top bowler hat and an orange and black swirl guitar. Their bassist, who made me laugh as he constantly stuck out his tongue, solidified the second common thread in these two bands- miniature bassists. Both maybe came up to my shoulder. Other than that, where Dope is angry rock, BLS carries a kind of melancholy tone throughout even the harder songs. The tributes to Dimebag and Randy Rhodes, and the recent death of Wylde's father definitely played into the tone of the set. After songs, Wylde would kiss his hand, raise it to the sky, and then beat his chest like a gorilla. It was kind of a weird downer.
Wylde has two fans pointed at him on stage, perhaps to cool him off, but also to blow his long blondish hair around. I thought this was hilarious- a guitar god hair ad? Later on, I realized that there might be another purpose. When Wylde moved out of reach of the fans, his hair would get stuck in the guitar pegs while he was playing. I saw this happen a couple times, and I watched him jerk his hair out, which made me go "OUCH!". It took my attention away from salivating over his playing, which is so effortless. I love the way he makes a guitar scream.
There were some ferocious headbangers in the crowd. I must give props to the guy in the wheelchair right in front of me, because he just never stopped. He must be a big fan, as the roadies kept giving him band swag all night. There was a lot of crowd surfing going on, and the security guys had their hands full and got kicked in the face a lot. About half way through the set, some black beach balls, branded with the band logo of course, were dropped on the crowd, just like Metallica late last year. This is a dangerous move- they hit the band, they hit security, and fights broke out as people tried to keep them.
Towards the end of the set, Wylde brought a fan, wearing a Pantera shirt, on stage to sing a song. They must have turned off his mic because I couldn't hear him, but it must've been a dream come true for him. This excited a guy behind me, as he pushed in front of me a jumped right up on stage and tried to sing. An onstage security guy came from across the stage and pushed him off like a linebacker, causing this guy to sail down the stairs that the band comes up on. It looked brutal- I bet that guy will never jump on stage again.
Another odd thing was the large white papers- that I originally thought was just the longest setlist ever- kept getting switched out on stage. What was that? Lyrics? Music? Perhaps Zakk has bad eyesight and can't see and the setlist had to be printed out really big? I guess I'll never know.
Unfortunately the incredibly annoying crowd, the melancholy tone, and the odd pairing with the opening band really put a damper on my enjoying the set. It's always good to see Zakk Wylde play though.
On my way out, someone told me I was a classy girl for a BLS show. Oh, if he only knew.
Pics of the guitar god by Raymond can be found here.
Setlist:
Black Mass Reverends
Destruction Overdrive
The Rose Petalled Garden
Faith Is Blind
Suicide Messiah
Give Yourself To Me
Graveyard Disciples
Been A Long Time
Damage Is Done
In This River (For Dimebag)
New Religion
Fire It Up
Guitar solo/Star Spangled Banner
Stoned And Drunk
The Blessed Hellride
Concrete Jungle
Stillborn
OVERALL: 8/10
BLS performance: 8.5/10
Dope performance: 8.5/10
venue (The Fillmore): 9/10
crowd/scene: 4/10
value ($35.00/ticket): 8.5/10
memorable: 7.5/10